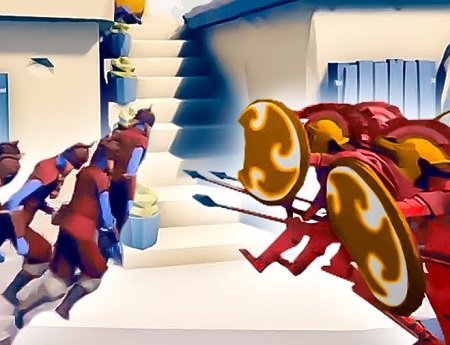 Scenic fights, amazing ragdoll physics, new units and opportunities – that's what's waiting for you in the latest update of TABS! If you have played this game before, you will surely be thrilled to find out what kind of new features the developers have included in the gameplay. And even if you see Totally Accurate Battle Simulator for the first time, it will still be interesting for you to play it, with even more possibilities than used to be available in the original version. So let's get started!
Pass the campaign, enjoy free battles and create your own units!
Once you launch the game, you're offered a quick introduction. It's highly advisable not to skip it because it will enlighten you on all the basics of the gameplay. After the first few levels, you can continue either in the Campaign mode (which is recommended if you want to learn everything about different fractions without getting confused) or Adventure mode (that offers free mix-ups of characters regardless of the fraction they belong to). Something like that can also be done in the Sandbox mode where you can create your own map and even units!
Yes, TABS actually allows you to make up warriors of your own. You will be able to do that in a special editor that's not too hard to master. Once ready, your units can be added into future combats and shared on the server with the gaming community. Just imagine, someone might actually like your units and add them to their own lineup!
Clash with your friends and random players online!
Besides, Totally Accurate Battle Simulator also supports mutliplayer. That means you can compete in real-time fights with other players, both randoms and those invited by you. Each of you will come up with a setup of warriors of your own, and it's going to be much more exciting than playing against the AI! The more times you manage to win the more coins you'll have on your virtual account to keep expanding your army and buying new, more expensive and powerful units that open up as you pass through levels. Discover them all, including the secret ones hidden on the maps, and enjoy the updated gameplay of TABS finding new, even more amazing sides of this awesome game!